Since 1913, when Curtis Advertising of Detroit, Michigan, the advertising firm providing Henry Ford with print support for the new automotive industry, established Curtis Company as a Windsor subsidiary for Ford Canada's print needs, CJK has provided specialty printing to the automotive industry.

For Curtis-JK people, "Quality" means
commitment to craftsmanship.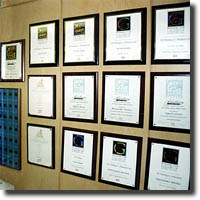 Our reputation and growth have resulted from our commitment to timely customer service, insistence on unrivalled quality and a desire to be the best. It is a commitment that all our people share - to provide our clients with top quality products and timely delivery at competitive prices.

"We have to be the best because we serve the best."
And in doing so we have made ourselves a significant resource across Canada and the U.S. Our client list has included such names as Seagrams, Loblaws, Smuckers / Bicks, General Motors, BASF, various universities, institutions, casinos, pharmaceutical firms and hundreds of other successful companies and organizations in Ontario, Michigan and throughout North America and the Caribbean.